CLOSED FOR THE SEASON
See you in March, 2019!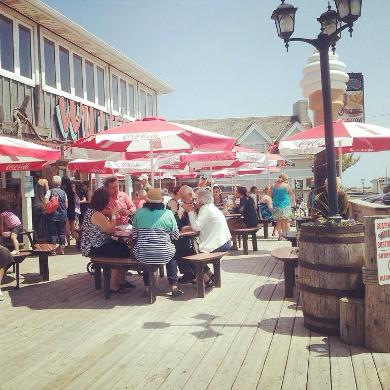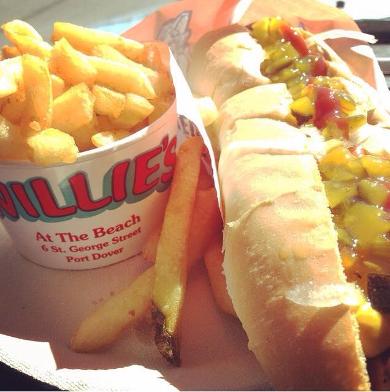 About Us
Willie's opened 27 years ago and it continues to grow in popularity. From the extensive menu, hungry visitors favor the Willie Burger created with its quarter-pound charbroiled beef burger topped with peameal bacon, cheese, Famous Willie's Homemade BBQ Sauce and condiments of your choice. Other favourites include chicken-on-a-bun, homestyle BBQ chicken and ribs and Lake Erie yellow perch.
Willie's offers both outdoor patio seating as well as an indoor air-conditioned seating area. For many people a stroll on the pier includes a stop at Willie's for an ice-cream cone.
Menu includes but is not limited to:
The Famous Willie Burger

BBQ Chicken and Ribs

Lake Erie Yellow Perch

Schneider Footlongs

Charbroiled Burgers

Fresh Salads

Kids Menu

Sundaes

Banana Splits

Hewitt's Hard Ice Cream

Soft Serve Ice Cream
Customer Reviews
"Yes, get the Willie's Burger. Ground beef patty, cheese, peameal bacon and a delicious, slightly sweet bbq sauce all on a nice soft bun. They even have relatively good gluten-free buns! Sit on the deck in the sun or shade. It's our favourite place to eat on a beach day. (Actually ate here two days in a row, it's that good!)" - Packingandunpacking, Strathroy, ON 08/30/2016
"On the recommendation of our b&b host we stopped at Willie's for lunch. We both had the Perch burger (locally caught). It was excellent and along with some fries and a root beer, it was a great lunch. We sat on a shaded picnic table overlooking the beach. All in all a great choice for lunch." - Rashenhurst, Niagara-on-the-Lake, ON 08/30/2016
"I live in Port Dover and Willies is one of my favorites for a good cheap meal. The burgers are the best and so is their bbq. A great deck to eat and admire the water and the prices are great." - Jane H., Port Dover, ON 08/18/2016
"Love this place, we have been many times and it never disappoints. The place is always packed and there is plenty of outdoor seating available." - Geoff L., Port Rowan, ON 08/07/2016
"Love going to Willies in the summer and sitting out side watching all of the tourists pass by - great dogs, roasted chicken, perch burgers and amazing onion chips!!" - Yugithecat, Port Dover, ON 04/24/2016
"Footlongs are far better here than elsewhere. Great toppings. Would never order a hot dog at any restaurant, but these taste sooo good for some reason." - Bumped, Southern Ontario 03/15/2016

"
Awesome place to stop on your day at the beach! Great food and service at affordable prices for my family! We will definitely be back next year. Thanks, guys!" - Victor C., Ottawa ON
12/27/2015
"
Willie's has the best burgers and hotdogs in Port Dover, bar none. Excellent selection of fixin's and friendly staff, as well. If you're in Dover, you gotta hit the beach - but not before you stop by Willie's first (and/or after)." - James T. 09/11/2015
"Willies is the best! So much variety. Fast friendly service. We love that we can eat inside or outside on the beautiful deck. Both regular and soft serve ice creams. It's our go to spot in Port Dover.
Almost forgot our favourite thing the never ending choice of toppings bravo!" - Chris O. D., Brantford, ON 04/04/2015
"Willie's is probably the best fast food you'll find in Dover. They have all the beach food (hot dogs, hamburgers, fries, ice cream, etc), but they also have a lot of better food options as well, like chicken, ribs (I think) fish, etc. Always great food here and a nice patio set-up with lots of seating." - Jeff K., Toronto ON 03 /06 /2015
"Pretty good place! You got to try there onion nuggets! Its close to the beach and serves ice cream from Hewitt's Dairy. The staff are courteous and quick! when your in Dover give it a try!" - Ralph N., Hamilton ON 11/25/2014
"My go-to meal - willie burg and onion chips with Willie's homemade ketchup....this will never disappoint!
Second fave - chicken on a bun and onion rings.
From super friendly staff to great food and atmosphere, Willie's never disappoints. You never feel rushed like you do at many other places in Dover. It's no wonder Willie's is a staple in the community." - MJM3791, Port Dover ON 11/04/2014
"A treat to have fresh perch from the Lake. Meal was very good, weather fantastic to eat outside. Prices good. The atmosphere is electric." - Kman47, Kingston ON 10/29/2014
"I cottage in Port Dover every year and by far Willie's is my favourite place to eat. So sad at the end of every summer when I have to leave. See you again next summer for a Willie burger and onion chip. Thank you so much for the great food and friendly service." Rusty S., Noelville ON 10/06/2013
"
I went to Willies in Port Dover, the service was prompt for a take out resturant. The food was hot and good value for the dollar. Staff are very friendly and courtious also. I would return for another Willie Burger and onion chips." Ricksea56 10/02/2013
"My husband and I drove to down to Dover last weekend and ate here for the first time. I had a Willies burger and my husband had a hotdog. We were both very impressed with our meals. Their selection of toppings for burgers and hotdogs was amazing! We will definitely be back! Thank you!" Joan Q., Hamilton ON 09/30/2013
"The 'Willie's ketchup' is delicious. They serve classic 'beach food' - fries, burgers, fish on a bun, and lots of ice cream. Nice patio close to the beach. Lots of seating, and lots of shade created by the patio umbrellas." Carrie B., Golden ON 02/07/2013
"Willie's is great for fast food. It's located right across from the beach so you can walk up in your swimsuit and order your food. There is also a very clean patio where you can sit and enjoy the view of the water as well as your lunch. They have a large selection on their menu including hamburgers, hotdogs, amazing fries, chicken items, and fish burgers and dinners that are made with Lake Erie yellow perch (so you can taste something unique while eating something local). The icecream section is separate from the food section so that everyone is served effictiently. They have an amazing section of condiments with your basics as well as an array of exotic relishes; but they are only for the burgers and hotdogs (it's not a salad bar). If you order the fries, make sure you use their homemade ketchup; it's good." Dave D., Niagara Falls ON 10/04/2012
6 St. George St., Port Dover, On | 519-583-3687